Steps For Restaurant To Choose The Right Delivery App
With the help of apps and the internet, we can now order food from not just one but any restaurant in our vicinity. From pizzas to Italian, it's all a tap away. Over the last few years, on-demand food delivery has grown tremendously and with the rise of working professionals, it is anticipated to grow even further. Statistics reveal that this industry will grow at an annual rate of 7.5%. This is not just exciting from a customer perspective but business angles too.
If you're a restaurant owner interested to cash in on this market potential and earn  extra revenue, joint food delivery app like hungryscholarapp. Despite the competition, customers are consistently looking for better customer service; here are some crucial factors you need to incorporate in choosing the right delivery app.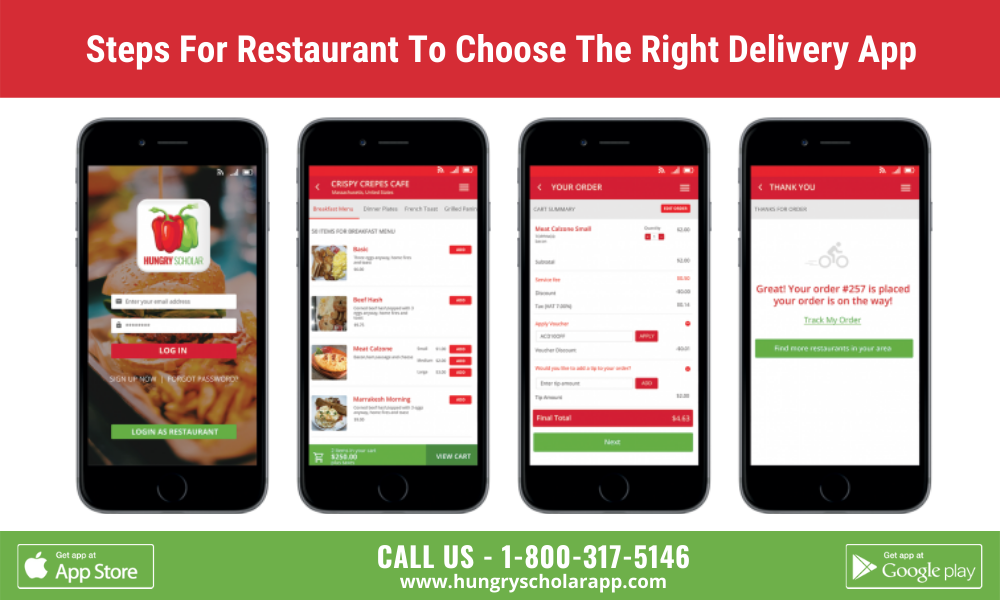 Good App Interface. The delivery app's UI is the first impression your customers have about your restaurant and your company. The app should be intuitive, easily navigable, offer personalized recommendations and do more.
However, to get your customers ordering, the delivery app has to feature the following options:
Food images
The eyes taste the food before the tongue does. If you notice, on-demand apps mostly push customers into decision paralysis, where they're unsure what to order from so many choices. At such times, a tempting photo does the trick. So, ensure all the photos in the app are professionally taken by restaurants and submitted to hungryscholarapp for example. If the photos are attractive, you could keep the cash register ringing.
Menu selection
One of the major reasons people order food is because they can't prepare certain dishes at home. The human mind craves variety and if the delivery app only serves the conventional delicacies, it is bound to fail.
You should include food delicacies from around the world and tie-up with restaurants that can pull this off. From healthy selections to food items that would send customers on a guilt trip, have them all open for ordering. Here, the  app should be able to present them in the most captivating ways possible, too!
Search Option
Sometimes, people know what they order. Or they crave for a very specific delicacy. The delivery app should be able to serve them as well. Integrating a search bar would help them quickly order their preferred food from their preferred restaurant.
GPS Tracker
Now, GPS serves two purposes here. It allows the app to know your location and recommend restaurants in your vicinity. It also allows customers to know their delivery status. One of the reasons why on-demand for hungryscholarapp  worked in the market is because they could track their food in real-time.
Multiple Addresses
It's not always necessary that as a customer, you would get food delivered only to your place. There could be instances, where you want to surprise your friends and family with their favourite food at their place, order food to a workplace for your friend, deliver food to your parents in a different city and more.
When the scenarios are diverse, hungryscholarapp  is built to handle such diversity. That's why the app have the functionality where customers can save more than one address of delivery. They should be able to manually enter an address and save their preferences.
During checkout, hungryscholarapp  also confirm the address of delivery before placing the order. The app choose if the order is to their address or a different one. Apart from offering convenience, this feature also helps in customer retention.
Delivery Validation
Appetite is universal and it's something that has to be satisfied immediately. That's why it's a wise decision to incorporate a feature that would offer customers a glimpse of the exact delivery time of their order from your restaurant.
When a user adds food to their cart, the app should immediately retrieve information about the nearby delivery agents available, the estimated preparation time from the restaurant, the pickup time and the estimated time of arrival.
These pieces of information will further allow customers to take a call on the restaurant they've chosen on whether they wish to continue with their order or prefer a much nearby restaurant with a faster delivery time.
Why this is crucial is to avoid any complaints about late deliveries. As customers have a clear idea of when their order would arrive, it's more like getting an acknowledgement or confirmation from them before the order is placed.