Pros and Cons of Food Delivery Apps and Services
Food delivery app like hungryscholarapp have not only altered the way we think about what to eat for dinner, but have reshaped the business model of the modern restaurant.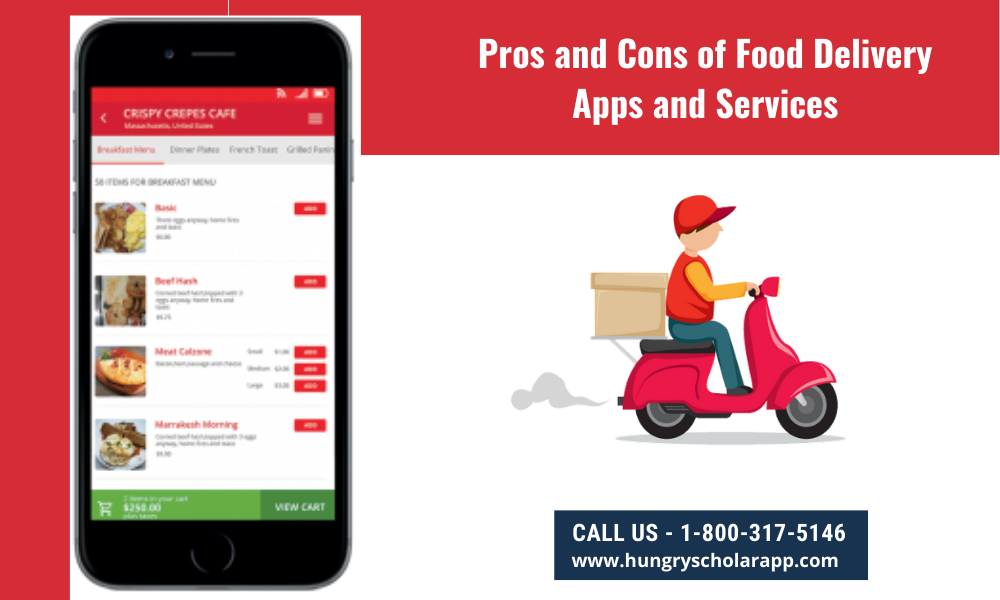 Online Revolution
It's overly dystopian to think that the expansion of online app-based delivery services will eliminate restaurants as we know them, but they have undeniably changed our experience as restaurant go-ers.
In fact, we don't even have to go anymore. The best restaurants are now at the mercy of our fingertips. Instead of waiting in line for two hours, Uncle Boon's is just a press of a button away. Or if finding a parking spot is discouraging, we can have our favorite chicken katsu from Konbi delivered directly to our homes.
The $26.8 billion online ordering market is the fastest-growing source of restaurant sales in the United States, according to food industry advisers. And digital, online delivery orders, while still just accounting for 5 percent of all restaurant orders, are growing about 20 percent each year.
Yet, the explosion of this new online-delivery service model doesn't come without its issues. Some restaurateurs like Mr. Bathwal of The Kati Roll Company in NYC have made the case that by expanding the available options, apps can "cannibalize [a restaurant's] existing customer base," who would come eat at their restaurant.
The data debunks this, proving that people don't replace restaurant visits with online ordering. They are more likely to order something in when they weren't planning on cooking or going out in the first place. And furthermore, even in the face of this online revolution, restaurant visits overall have remained mostly flat.
Another, more accurate, critique is that the slice of profit the food-delivery apps charge a restaurant can oftentimes be exorbitant.  Some apps are charging as much as 50 cents per dollar ordered. However, upcoming legislation in New York seeks to regulate these essential monopolies in the hopes of abolishing predatory fees and returning the relationship many restaurants have with the apps to more of a symbiotic one, instead of the parasitic one it is slowly becoming.
There are other kinks to work out, too. According to a study by US Foods, about 54 percent of drivers are tempted to eat the food they are delivering, and half of those have admitted to taking a bite. Many apps have methods in place to resolve this. Hungryscholarapp, for example, will offer a full refund if this happens to you, and will deactivate a driver's account if a customer suspects they tampered with their order.
While issues with the apps range from predatory pricing to food-safety concerns, all in all, delivery apps are used by chefs across the country to better share their food with a broader audience. And while some chefs believe earning a profit on a pure-delivery model is impossible, it's undeniable that delivery is becoming a bulk part of the restaurant business, and not something many can afford to cut.
As this trend has grown, and demand for delivery has increased, a new solution has arrived. It's a solution that might allow restaurants to turn a profit, if they are willing to look outside of their own kitchens.
Ghost Kitchens
Ghost kitchen companies, like Zuul (named after the "Ghostbusters" ghost) or Kitchen United, aim to be solutions for restaurants with growing demand for delivery, while offering ways to cut land and service costs as well.
A good way to picture a ghost kitchen is like a food court, sans seating and diners—it's a space where multiple restaurants can prepare their food off premises (whether they also have their own bricks-and-mortar location or not). The only people let inside are the cooks and the couriers. They offer perks to the restaurants (or kitchens) themselves like dishwashing, online-menu optimization, and assistance using the delivery technology.
Some ghost kitchens offer dispatch centers for the couriers and plan to offer phone chargers, while others offer free coffee, water, and tea in the hopes that these perks will keep couriers around so delivery times will be faster.
This year, The New York Times reported that over 4,000 virtual restaurants and ghost kitchens have established themselves across the country since 2017.  But in no way are ghost kitchens trying to replace the restaurant scene. They are a demand-based business, built on the success of delivery apps and driven by the existence of restaurants in the first place.
Big chains like Sweetgreen and Chick-Fil-A are prime examples of restaurants well-suited for ghost kitchens. Their food is easy to source and easy to produce and the brands are already ubiquitous. Having a ghost kitchen just expands their delivery range to an already devoted base and lowers economic land costs.
But unlike these big brands, single-owned restaurants like Canter's Deli and Tacos 1986 have joined the cloud kitchen game. As a native Los Angelino, Canter's in a cloud kitchen is as surprising as it gets. Part of Canter's charm comes from its landmark space on Fairfax, and Tacos 1986, you go to in part for the taquero himself. However, Alex Canter of the acclaimed LA delicatessen put it best when he said, "If you don't use delivery apps, you don't exist."
It's like being on social media. You might not want to get started, but once you're on, there's no going back.
Through this move, both restaurants have expanded their delivery range while lowering the overhead associated with expanding, based on the assumption that the food they are serving holds up. And it seems to be working. Now customers can enjoy a Canter's Rueben if they live in Pasadena, or a Tacos 1986 Vampiro if they don't want to brave downtown LA traffic.
A New Kind Of "Restaurant"
When Kelly Cho, the owner of Suki, a delightful Japanese curry shop in Manhattan's East Village, was thinking about opening up her restaurant, she knew "delivery services would always be a part of it." Both of her kids are in college, and she thinks "people are too busy to come in and eat all the time. We want to bring the food to them."
While some might find the off-premise, online dining ecosystem daunting, Ms. Cho feels empowered. "Online delivery services allow me to focus just on the food."
She continued to explain how if Suki used their own delivery driver, there might be a lower fee, but also, what's good about the companies is they take responsibility for vetting the driver and handle all of the insurance, too.
Online orders are more than just an added bonus for Ms. Cho. Her current space seats six people. If the weather is nice, it seats eight. Delivery orders account for 50 percent of her business.