Most Americans Just Want Simple Valentine Dinner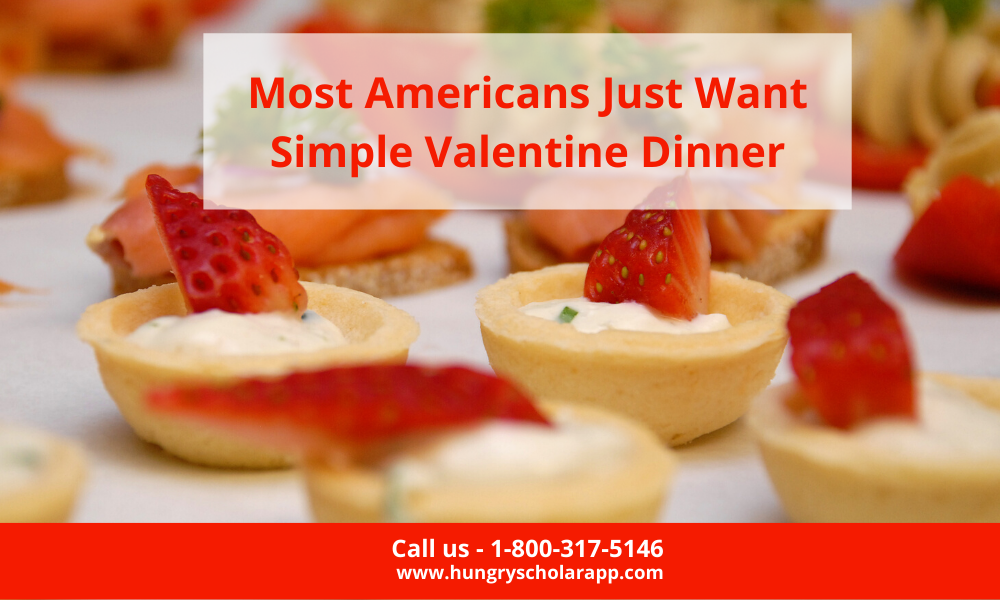 Ever wish your partner could read your mind about what it takes  to enjoy the perfect Valentine's Day dinner at home? If you're in search of the recipe for modern culinary romance, you're in luck! I hungryscholarapp uncovered what women and men actually crave on Feb. 14, and the findings are clear — most Americans just want hugs and kisses.
According to Harris Poll, Americans are divided on whether they would rather go out to Valentine's Day dinner at a restaurant (51%) or stay in and have dinner at home (49%). For the nearly half of the population who plan to turn up the romance at home, what does it take to orchestrate an ideal dinner? Is it dressing up to eat an expensive, involved home-cooked meal complete with caviar, or is it all about indulging in your favorite comfort food in sweats?
The days of impressing your sweetheart with fancy clothing, a multi-course gourmet meal, and indulgent, expensive foods are gone. The real way to your lover's heart is as easy as (pizza) pie:
Valentine's Day dinner doesn't need to include fancy dishes. In fact, 41% of Americans say pizza is among the most underrated Valentine's day foods, with 20% secretly wishing their partner would make pizza for their romantic meal at home.
In addition americans secretly wish their partner would make include:
An all-dessert meal (22%)
Fried chicken (20%)
BBQ (19%)
Tacos (18%)
Recent findings show that "American" cuisine tops the list of the most romantic cuisines to have for a Valentine's Day dinner at home — with 46% of U.S. adults backing the claim. Following American, Italian (44%) and French (22%) come in as the #2 and #3 most romantic cuisines, respectively.
It really is the thought that counts. 63% of Americans describe the perfect Valentine's Day dinner at home as thoughtful and personal (i.e. my partner making my favorite foods), while 45% describe their ideal night as easy and low key. Furthermore, just over half of Americans (51%) would prefer to cook the special meal together with their sweetie versus cooking for their date or having their date cook for them.
And for the record, the fewest Americans want Valentine's Day dinners that require a lot of effort (17%) and cost a lot (8%).
Surprisingly, more than a quarter of Americans (26%) claim one of the biggest benefits to making Valentine's Day dinner at home is that they can wear their sweatpants. And women are more likely than men to share this sentiment (30% vs. 21%).
Love isn't always messy. 50% of Americans believe a clean house is one of the best ways to set the stage for a romantic Valentine's Day meal at home. Women (53%) especially share this viewpoint — more so than men (47%). Once the house is clean, don't forget the candlelight and tabletop flowers, with more than half of Americans (57% and 55%, respectively) agreeing they help set the mood.
Chocolate tops the list of foods that people consider a turn-on for Valentine's Day, with 61% of Americans admitting to it setting a mood. However, be careful about which chocolate you choose … 43% of people also say that heart-shaped chocolate boxes are among the most overrated, stereotypical Valentine's Day foods.
While over half of Americans (51%) consider strawberries to be among their biggest turn-ons for Valentine's Day, 33% of people say that the chocolate-dipped version is overrated. Recent data tells a different story, however, with searches for chocolate-covered strawberries up 678% in the week leading up to Valentine's Day.
Just remember, the recipe for modern culinary romance is simpler than you might think. Whether you decide to make pizza, fried chicken, or an all-dessert meal, we hope you enjoy it at home with your love one.