Features of An Online Food Ordering App
Now that you are somewhat familiar with why you should be investing in an online food ordering app, you may want to conduct a quick research on the best food ordering apps which are out there. Here is a list of must-have functions that the food ordering App should have. This would serve as your checklist while shortlisting the best order online food app for your restaurant.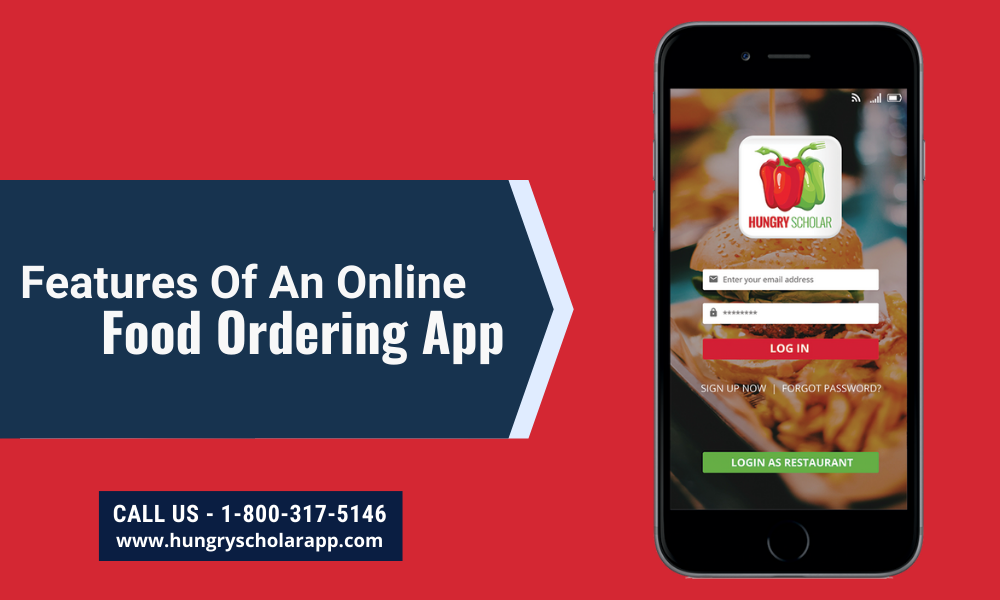 1. Multiple Login & Registration Options
When users download the online food ordering app, there should be an option to log-in via your email or social media platforms. This should be further authenticated with one time passwords triggered to mobiles or email to verify users. Restaurants are thus able to maintain a database of subscribers for further monitoring and marketing.
2. Notifications
This feature helps both customers and restaurant management track orders. On each step of the delivery process, customers are kept updated about the whereabouts of their order gaining visibility in the logistics process. Also from a repeat order perspective, your subscribers are kept in the loop in all the new things that you have to offer. This becomes an important part of your customer engagement and retention strategy.
3. Table Reservation
Table reservation features on the app work very well with your dine-in set-up. Popular restaurants have always had the issue of running out of space on a busy day. And on many occasions, customers are made to wait for their turn. Table reservation features on the online ordering app help customers book their tables well in advance, thus improving their eating out experience.
4. Integration with Restaurant Software
Mobile food ordering app, when integrated into restaurant software, contributes to a robust restaurant management system. Integrations include those with operations and marketing setups which allow greater automation in your restaurant processes. Checking for software compatibility is a must at the time when signing up with online food ordering app. This helps safeguard against old or incompatible versions of restaurant software.
5. Interactive Menus and Shopping Carts
Customer experience is crucial. Your restaurant order taking app must allow you the flexibility to make changes to the menu and shopping carts thereby constantly elevating your customers' experience. Also, it is important that the order placing journey is more convenient. Like customers enjoy easy menu navigation and quick order placements.
6. Multiple Payment Options
The food ordering app should support all kinds of payment modes for the customer to choose from. Be its debit/credit cards, online wallets, Cash on Delivery, your online food ordering app should include as many payment options as possible.
7. Loyalty And Discount For Improving Customer Retention
Customer Loyalty is an important metric for restaurants to keep a track of. Repeat business forms a significant chunk of revenue of any restaurant and should not be neglected.
Loyalty points are great incentives for your customers to revisit your outlet or order again from the app. Keep your customers updated about the points they have through the push notifications to make the order on the app platform. Repeat visitors are important as they not only give you business themselves but also promote your brand both online and offline. Likewise, discounts drive at the value which is a very effective tool that marketers make use of. So, do frequently update all the latest discounts. Your customers should be aware of all that you have to offer at all times.
8. Pre-Order Feature
Customers should be able to pre-order or schedule their meals. this allows them the flexibility of placing orders at times outside the typical order delivery time.
9. Social Media Integrations
Your restaurant's online food ordering app should link to social media. This integration helps customers log in and get themselves registered. It also facilitates easy interaction between your customers and your brand via reviews. Ratings, referrals and so on. Activity on the food app then gets pushed to social media. Social media is an excellent platform to amplify your brand to reach further. Also, app subscribers should be able to invite their social media friends to sign up for the app. Mobile Ordering Apps nowadays consist of feedback or review forms. These forms help customers share their opinions about the food and order experience.