Baby Shower made Easy With hungryscholarapp
Are you planning a baby shower for a dear friend or loved one and are stressed out as you're planning your menu? Just thinking about the amount of food you have to buy, prepare, cook, and serve can make you immediately feel tired and stressed out.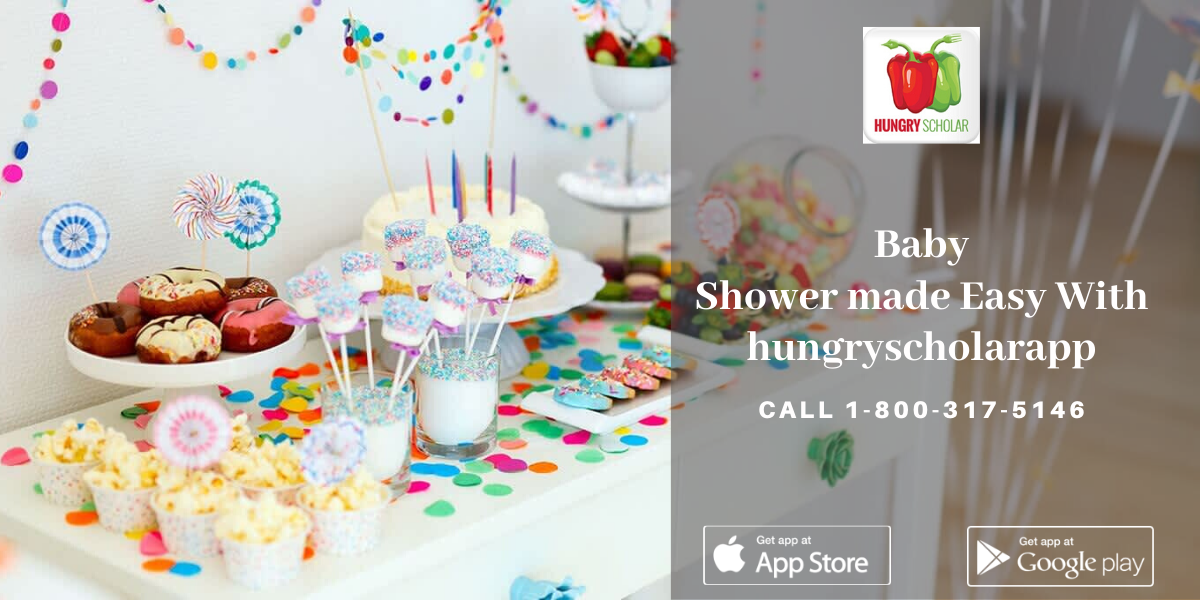 What if I told you that you could still throw the perfect baby shower without cooking? Well, you can! Hungryscholarapp has everything covered, we have an amazing selection of both local and chain restaurants available to order delivery from with the simple click of a mouse.
You only have to make your food choices, indicate how many guests will be in attendance. Our incredible delivery drivers will ensure that your food is on time, hot, and delicious! You won't even have to purchase plates, utensils, or serving dishes because we include those with our catering service! Stop stressing about such a special time to celebrate new life and families and spend time with your guests instead of in your kitchen.
No  Food Prep
If you've ever tried making a large amount of food for guests, then you understand the time, effort, and energy that goes into it. You have to make sure your menu can feed the amount of people you've invited, complete the shopping in advance, and then make sure you schedule your day perfectly so when the doorbell rings, you're ready to meet your guests dressed in your party dress and ready to serve cocktails.
While this all sounds lovely in a perfect world, it rarely goes that easily in reality. With hungryscholarapp, we're proud to take the stress off of your plate and allow you to focus on your guests and family instead of trying to monitor four different dishes at once while entertaining party-goers.
You can quickly make food and entree selections on our easy-to-use website and schedule the deliveries whenever you would prefer. Our services can accommodate up to 200 guests and as mentioned before, we'll provide serving utensils, plates, and serving dishes.
We're sure you'll be able to find the perfect dishes, entrees, appetizers, and desserts for your event, and our extensive selection of both local and chain restaurants means that you can choose multiple fares that will be sure to please everyone invited.
Enjoy Your Party!
How often have you thrown a party, event, or baby shower and felt like you didn't even attend because you were stuck in the kitchen? It can be so frustrating when you've put weeks into planning a special party and you feel like all you did was rush around, refilling the punch bowl and making sure everyone had enough to eat.
For your next baby shower, you can relax and enjoy the fruits of your labor with hungryscholarapp! Our incredible line-up of local and chain restaurants will happily do the cooking for you so you can eat cake and connect with friends, family, and guests.
Don't stress yourself out to the point of losing your mind and sanity when you're planning an exciting party for your dearest friend or family member! You can have your cake and eat it too with the amazing and professional food delivery services that we proudly offers.
No Clean-Up!
The party can be so much fun until the last guest leaves and you're left with piles of wrapping paper, plates, cups, and leftover food. Before you lose your mind and think it might be a better idea to simple go buy an entire new set of china and cutlery, hungryscholarapp will save the day!
When you cater with us, we provide everything you need so you only have to throw it away after the baby shower is over, making clean-up a breeze! Your days spent scrubbing dishes and serving platters are long over when you use hungryscholarapp's helpful food delivery service.
Since everything is disposable, you won't have to worry about your great-grandmother's china accidentally being broken or a favorite serving dish cracking in the dishwasher.
Enjoy the incredible food selections of our delectable local and chain restaurant fare and you'll be sure to relax and be the perfect hostess at your upcoming baby shower. Your friends and family will be sure to wonder how you did it all with such ease and effortlessness!
Baby showers are wonderful times for celebration, but they can incite intense stress and worry when you're tasked with preparing enough food for your entire guest list. Enjoy your party and the excitement of a new bundle of joy and cater with hungryscholarapp.
We offer an incredible selection of restaurants, both chain and local, fantastic food delivery service, and can cater for parties for up to 200 people! Don't forget that we also provide utensils, serving dishes, and plates as well!
What are you waiting for? Plan your next baby shower or event with hungryscholarapp and leave the food up to us! Contact us today to get started!